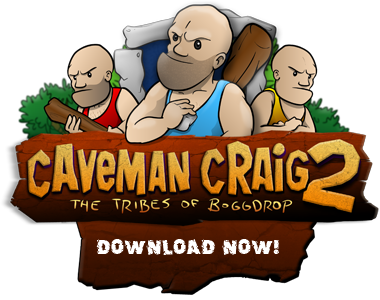 It is with much pleasure and excitement that we announce the official release of Caveman Craig 2: The Tribes of Boggdrop.
Caveman Craig 2 is a unique strategy game featuring Craig, a tribe leader whose goal is to take over the four tribes of "Boggdrop". To do this, Craig must buy and train hunters, gatherers, and preparers to grow and protect his tribe.

This unique strategy survival game includes..
• Over 12 dinosaurs, including Velociraptors, Pterodactyls, and the brutal Tyrannosaurus Rex
• 35 "XP rewards" that help defend and grow your tribe or disable your enemy. The XP Rewards include pet dinosaurs, teachers, catapults, and fully trained cavemen.
• A whole new twist on the original Caveman Craig game; conquer the enemy's territory to win each level!
• Smart cavemen that can sleep, eat, improve their skills (eventually unlocking a special 'veteran bonus'), and prioritise their tasks.
• New gametypes, dinosaurs, bonuses, achievements, and playable characters that can be unlocked!
• 'Classic' mode, where you must build your tribe as large as possible while facing harder and more frequent threats – just like the original Caveman Craig!
• A professional, high quality soundtrack by platinum-selling musician Ricky Garcia
Caveman Craig 2 is available on PC for just $9.99.
Buy it now!
A free playable demo is also available here!
You can also check out our !


And now a note to our fans, followers, and anyone who contributed to us or supported us sometime in the past 4 years…
Thankyou!! Your patience, feedback, and support means so much to us. It's been a long time coming, we know, and we hope you enjoy playing the game as much as we have enjoyed developing it!
Take care,
Rhys Andrews & Tim Andrews