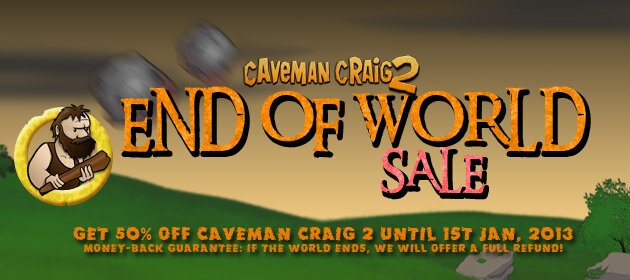 Today I have some helpful christmas advice!
If you're struggling to find a meaningful gift for your friends or family before the destruction of the entire world, then our Caveman Craig 2 "End of World Sale" is for you! Caveman Craig 2 is 50% off from cavemancraig.com between now and 1/1/13, or when the meteors fall, whichever comes first.
Furthermore, we guarantee to give you a full refund if the world does end before you get to have a full playthrough.
And if THAT'S not enough, then you might be pleased to know that, mayan's willing, we'll be releasing our "Battle at Dudu Forest" DLC for Caveman Craig 2 in early 2013, free for all owners of Caveman Craig 2!
Just click the banner at the top of this post to claim your bargain!