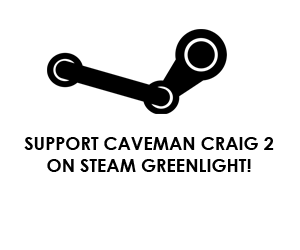 Hi all!
As outlined in our previous blog post, we need YOUR help to get Caveman Craig 2 released on Steam, the mother of all distribution platforms.
CLICK HERE TO VISIT OUR GREENLIGHT PAGE AND RATE US UP!
We need a BIG response in order to have the game considered for release. Even if you already own the game, this milestone will help Parabox with further development on both Caveman Craig and our other games. Our very small revenue is what enables us to keep going and Steam will open us up to many more opportunities.
So RATE & SHARE! Thank you!
-Rhys

Late this month, Steam will be launching a new service called 'Greenlight'. The service will allow game developers such as ourselves to submit games for the Steam community to decide whether they want to be able to buy it off Steam.
Steam currently has a game submission process, however the fate of every submission is in the hands of staff. I dare say, catch them on a bad day or fail to grab their interest immediately, and a game with oodles of distribution potential misses out on the best opportunity an indie developer could ask for – to sell their game on the biggest game distribution service on the internet.
Needless to say, we're excited about this and will be submitting Caveman Craig 2 to the service as soon as we are able.
Many of you have been urging us to try and get Caveman Craig 2 released on Steam. We have decided to wait for Greenlight to leave the decision in the hands of our fans.
So in order for the game to be released on steam, we NEED your help! Once Greenlight is released and CC2 is submitted, we will be urging you all to support it in any way possible. Caveman Craig 2 fits into an awkward category of indie games. It needs the support of its fans to draw the attention it deserves.
– Rhys
Check out our first development log video for "Stadium Builder" on youtube! It's short & sweet, but I'm sure we'll have a lot more to show you soon!